SOEX Textil- Vermarktungsgesellschaft m.b.H.
Communications
An der Strusbek 19
22926 Ahrensburg
Germany
Tel +49 4102 45 45-0
Email: presse@soexgroup.de
current news
Are you interested in what interests us? In our newsroom we provide information on key developments at the company as well as current news in the field of used textiles.
01.07.2016 Germany-based SOEX GROUP invests 5 million euros in building a new sorting plant
Sharjah/Ahrensburg, The SOEX GROUP, a globally leading company in marketing and recycling of used textiles, will put another textile sorting plant into operation by the middle of 2017. For this purpose, the company has leased a land area of 30,000 square meters in the Hamriyah Free Zone in the United Arab Emirates for 25 years. Beside the textile sorting and recycling plant in Wolfen, Saxony-Anhalt, Germany, with 700 employees, the planned plant is an important step towards high-quality, local processing of the growing amount of collected goods, especially from the Asian region.

Here you can find the press release.
31.05.2016 Gemeinschaft für textile Zukunft (GftZ) is expanding further
With the Geo-Tex Recycling AG and the East-West Textilrecycling Kursun GmbH, the GftZ has won two new partners. The interest group now consists of six partner companies in total. With their affiliated sorting plants, they represent the main part of Germany's sorting capacity for used textiles. Since the initiation of the GftZ in 2014, the SOEX GROUP strongly promotes its further development.

Axel Buchholz, managing director of the SOEX GROUP, welcomes the two newly joining partners: "As a founding member of GftZ, we are delighted about the growth of this important interest group and the future collaboration with the new member companies. Only together can we establish sustainable and transparent standards for the entire industry."

Here you can find the current press releases of the the GftZ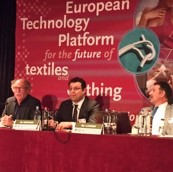 28.10.2015 Trigger sustainable recycling processes – SOEX GROUP presents RESYNTEX
Pailak Mzikian – Head of Recycling & Sustainability of the SOEX GROUP – presented the project RESYNTEX at the "Innovating for Sustainability in European Textiles and Clothing" conference in Brussels. The event organized by the "European Technology Platform" intended to trigger sustainable processes. In doing so, the European representatives of the textile industry focused on materials, production processes as well as the entire value chain.

The more than 150 participants showed great interest in the research project supported by the European Commission. The project, which is coordinated by the SOEX GROUP, aims to develop a complete reprocessing line for basic textile components to be able to use textile waste in the chemical and textile industry. Thereby, the 20 project members, among other things, aspire to show synergies between technical, economic, ecological and legal aspects.


© SOEX GROUP
27.10.2015 Nicole Kösegi represents the Future of Textiles Association on the BIR World Recycling Convention in Prague.
Today, Nicole Kösegi – Chief Operating Officer Collection & Procurement of the SOEX GROUP and speaker of the Future of Textiles Association (Gemeinschaft für textile Zukunft) – informs an audience of approximately 800 people about the urgent need of guidelines for the sustainable use and high-quality recycling of used textiles on the BIR World Recycling Convention. Furthermore, she shows how the implementation of those guidelines should be performed in order to be able to guarantee a sustainable use and high-quality recycling of used textiles in the long-term. Further issues that are going to be discussed during the convention with a focus on recycling are for example the issue circular economy and the question, how intoxication within the recycling chain can be avoided.

The non-profit organization BIR (Bureau of International Recycling) represents over 800 members in more than 70 countries. These members are mainly private companies. Nontheless, the organization has also national associations on its memberlist. BIR regularly organizes conventions with different focuses, such as textiles, metal or plastic.

The interest group "Gemeinschaft für textile Zukunft" (Future of Textiles Association) advocates the sustainable use of textiles and a high-quality collection, sorting and recycling of used textiles. The focus of the association is on the development and establishment of guidelines for the sustainable use and high-quality recycling of used textiles.
© Des Harris
Footwear recycling project presented in Paris
Shoes that move on – For two years now, SOEX GROUP is part of a pioneering global footwear recycling project. On September 9, 2015, its results were presented at the seminar 'Inspiring Circularity' in Paris by Benjamin Marias from our partner company AIR (Agence Innovation Responsible). At this seminar French and Dutch thought-leaders shared the latest developments on recycling and circular economy strategies in the fashion industry.
Footwear is one of the most difficult product groups to be recycled, for a shoe consists of up to 40 different materials. Since 2013, SOEX GROUP meets this challenge. In cooperation with its partners AIR and Eco TLC in France as well as InCycle in the UK, technical procedures have been developed to separate components of shoes in order to get the purest possible materials for reuse and recycling. In his presentation Benjamin Marias explained how this task is successfully accomplished by the innovative footwear recycling pilot, which is situated in SOEX GROUP's sorting and recycling plant in Wolfen, Germany.
The seminar 'Inspiring Circularity' was the first in a series on 'Fashion, Textile and Innovation'. The aim of this seminar series is to address important developments in the fashion sector and is being organized by Atelier Néerlandais and ArtEZ Future Makers.



23.10.2012: ERC wins Silver Award
In October, European Recycling Company (ERC), a SOEX GROUP subsidiary have been awarded the Silver prize at the inaugural Zero Waste awards. Aware recipients were judged across the five criteria of the Waste Hierarchy e.g. waste prevention, re-use and recycling, over recovery or disposal. "The award is recognition of the approach taken throughout the SOEX GROUP, towards sustainability and zero waste. We are proud to be amongst the first recipients of this coveted award " said Andy Haws, CEO of ERC. This award is the first of its kind and is sponsored by Local Authority Recycling Advisory Committee (LARAC). To learn more about the award, please continue here.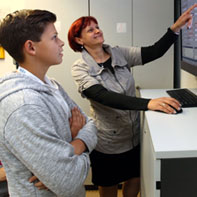 15.07.2012 Interne Pressemitteilung: Tag der Offenen Tür
Offene Tore bei der SOEX
Mehr als 1200 Besucher nutzten am vergangenen Samstag die Gelegenheit, sich das SOEX Werk in Wolfen anzuschauen.
Das Werk wurde 1998 eröffnet, mit damals 250 Mitarbeitern. Heute sind fast 800 Personen beschäftigt, die täglich über 400 Tonnen Alttextilien verarbeiten. Selbst ein massiver Regenschauer kurz nach Beginn der Veranstaltung, der das komplette technische Equipment lahm legte, änderte nichts an der prächtigen Stimmung. Das vielseitige Programm bot u.a. die Gelegenheit sich bei einem Rundgang zu informieren, was genau aus den Alttextilien wird, die in Altkleidercontainern gesammelt wurden. Von der Sortierung bis hin zum Recycling wurde präsentiert, wie die Mitarbeiter vorgehen. Auch die Einsatzbereiche der recycelten Kleidung als Dämmstoffe und Malervliese waren vor Ort ausgestellt.
Das Unterhaltungsprogramm startete mit einer Aufführung der Kinder von der KITA Kuschelburg und wurde gekrönt von einer Modenschau der SOEX Mitarbeiter. Hier wurde deutlich, dass sich in den Altkleidungsspenden hochwertige und tragbare Stücke befinden, die sogar ein Karl Lagerfeld-Doppelgänger-Outfit ermöglichten.
Die Ausstellung von kuriosen Fundstücken und ein Flohmarkt rundeten das Programm ab. Über 400€ wurden eingenommen und gehen an die KITA Kuschelburg.
Seit knapp 15 Jahren wächst das Werk kontinuierlich und ist ein wichtiger Arbeitgeber in der Region. Neben der Oberbürgermeisterin Frau Wust waren auch Justizministerin Prof. Dr. Angela Kolb vor Ort um sich ein Bild von der SOEX zu machen.
Unternehmensinformation: Das Werk im Herzen Europas wurde 1998 eröffnet, mit damals 250 Mitarbeitern. Heute sind fast 800 Personen beschäftigt, die täglich 400 Tonnen Alttextilien verarbeiten. Seit knapp 15 Jahren wächst das Werk kontinuierlich und wurde in diesem Jahr für seine Bemühungen um gesundheitsförderliche Arbeitsbedingungen und Familienfreundlichkeit mit dem Gesundheitspreises der IG BCE und der AOK ausgezeichnet wurden.
2/2012 CPforum: SOEX Textilsortierbetriebsgesellschaft gewinnt Gesundheitspreis
Betriebliche Gesundheitsförderung hat höchste Priorität
Am 23. April wurde der Gesundheitspreis von der Gewerkschaft Bergbau, Chemie und Energie im Kulturhaus Wolfen verliehen. Der 1. Preis ging an SOEX TSG, von der Energieversorgung Halle und dem Werk Zielitz der K+S KALI GmbH.Die SOEX TSG arbeitet seit 2009 intensiv daran, die Arbeitsbedingungen gesundheitsförderlich zu gestalten – mit sichtbarem Erfolg. Mittlerweile sind zwei Physiotherapeuten eingestellt, die Arbeitsbedingungen wurden ergonomisch verbessert und es werden Sportkurse angeboten, die die Beschäftigten während der Arbeitszeit wahrnehmen. "Gesundheit ist mehr als nur körperliche Fitness", erklärt Werkleiter Florian Oeser. Auch das psychische Wohlbefinden spielt eine entscheidende Rolle. In der Befragung kristallisierten sich weitere Themen heraus, die die Beschäftigten belasten. Dazu gehören die Kinderbetreuung in den Randzeiten und auch die Pflege von älteren Familienangehörigen. SOEX TSG hat daher ein Netzwerk in Leben gerufen, das die Beschäftigen personell und finanziell zu diesen Fragen unterstützt."Gesundheit ist nicht mehr aus dem beruflichen Alltag wegzudenken", sagt Werksleiter Florian Oeser. "Unser größtes Kapital sind unsere engagierten Mitarbeiter", führt Oeser aus. "Insbesondere ohne die Personalleiterin Frau Stein und die Betriebsratsvorsitzende Frau Lüer wäre dieser erste Platz nicht möglich gewesen. Mit ihrem großen Engagement haben diese Kolleginnen maßgeblich zu den Veränderungen beigetragen." Um langfristige Veränderungen zu erzielen, setzt die SOEX TSG nicht nur bei den Personen an, sondern ändert die Rahmenbedingungen, denn nur wenn Verhaltens- und Verhältnisprävention Hand in Hand gehen, sind dauerhafte Verbesserungen möglich. Auf dem Preis wird sich die SOEX nicht ausruhen. Auch in Zukunft wird die betriebliche Gesundheitsförderung höchste Priorität haben. Dieser verliehene Preis heißt Verantwortung und ein weiteres Engagement im Sinne der Mitarbeiter.